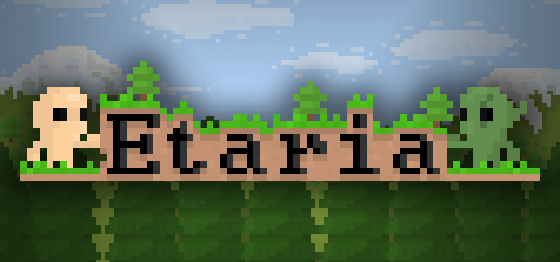 Etaria | Adventure
A downloadable game for Windows
Etaria is fictional and mysterious world with a variety of animals and creatures.
In this wonderful world, you main goal is to establish your village and citizens, and lead them to prosperity.
◄World of Etaria ►
Whole world is randomly generated and endless.
What you will do is completely up to you. Do you feel like chop and gather woods? Or do you want to go fishing? Pick up berries or go hunting?
Explore new territories or go down inside of deep caves?
◄Creatures of Etaria ►
While traveling in the world of Etaria you will notice that creatures and animals may vary upon each location. You will meet not only cute squirrels and fluffy lambs, but huge and scary scorpions and many others.
◄Sand-box elements ►
This game has sandbox features, such as changing landscapes and building shelters and other useful structures.
◄Survival elements ►
Etaria also has survival features. You will need to gather food, fight with wild animals, go hunting, fishing, building shelters and a lots of other stuff to do.
◄Hunting and fishing ►
Etaria gives you opportunity for hunting animals, gather food, and useful resources such as skin, animal teeth, and etc. Fishing in ponds is one of the most fascinating things to do in this game. By the way, you have to choose the right time of the day in order to make fishing more successful and gather as much fish as possible.
◄Citizens ►
You can establish your own village, where your citizens can be settled. Each citizen can have it`s unique profession: lumberjack, hunter, fisherman, miner and etc.
◄Features ►
• Randomly generated and endless world
• Different biomes (forests, fields, deserts, swamps, and others)
• Variety of animals and creatures
• Tons of stuff to do: hunting, fishing, mining, crafting and etc
• Tower defense elements. Establish your village and attacks others.
• Survival elements. Survive and fight for your life.
Download
Click download now to get access to the following files:
Also available on
Comments
Log in with your itch.io account to leave a comment.
I've been trying to run it but it crashes on me every time. I use an XP.

I'm not trying to call plagiarism, I'd like to think this is a genuine coincidence, but I have a game on here I have been working on for several months now called "Easteria" that has a similar art style, although my game is top-down. My game is more of an open world adventure, so mechanic wise, they're not very similar, but I did recently add fishing to it. Small world haha
Hi!
Our game Etaria was released in February of 2016 :)
i also have this game on my phone it is fun :P
I really like the game and it's in a style that i like, though I still want to give criticism.
The game has... a lot of bad grammar. Things like "Ear bear" and on this page "...You main goal..."
I don't know whether it's a badly hidden konami code or a strange bug, because when i press Q I get better gear and an unlimited supply of resources.
The building/digging system is hard to use. The command to dig should be something like RMB, clicking an icon isn't comfortable. When building you should be able to see what resources you have and there should be a better system for choosing what to build.
The material icons are quite pixelated, so I have a hard time seeing what I have in my inventory.
The letters in the tutorial look weird and uneven for me. This could probably be fixed by getting rid of the outlines and making the actual letters thicker.
The easy difficulty option shouldn't be called what it is. (See in the video after 6:30) (I also recommend watching the channels other videos)

I hope you could fix these issues. Also, I don't mean to be rude by pointing out these things, I do like the game and would love for you to improve it.

What an adorable game with so much more content than I thought. Keep up the great work I really do love this game it has a beautiful art style and a great concept!